Fixes and improvements galore in the latest firmware for the fēnix 6 family of fitness watches. Unfortunately Garmin hasn't provided a direct download, but I was able to encourage it with Garmin Express. That could have been because I was running the 13.00 RC, and the 12.77 BETA before that, both without any showstopper issues. The only niggle that I experienced was that I needed to reboot my phone to get it to connect after applying the update.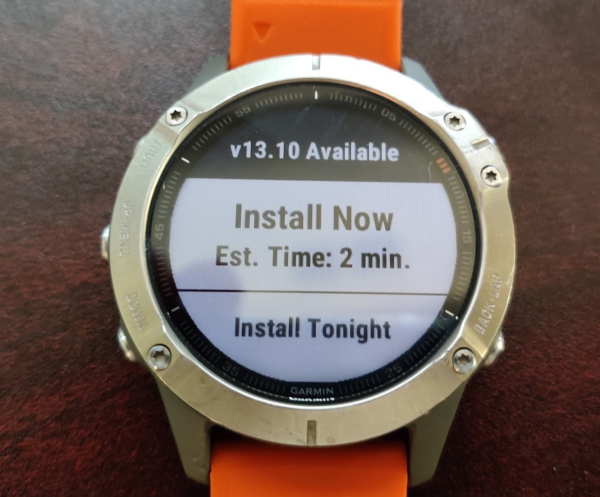 Change Log

Added support for Explore Navigation Sync, where one can select lines, waypoints or generic points on the map within the Explore app and start navigating on device.
Added support for sport specific power zones. One can now setup their power zones for XC Ski separately from that of Cycling. (Menu > User Profile > Power Zones)
Added support for displaying metrics from an indoor rowing machine that supports the ANT FE-C profile (e.g. Concept 2 with the PM5 module). This includes new fields for the Indoor Rowing app: Distance, Pace, Power, and Stroke Distance.
Added support for an updated software update flow for ANT sensors, where the user will be prompted once they have completed the activity.
Added support for descriptive Varia error messages.
Fixed an issue impacting updates to features like VO2 max and Training Status.
Fixed an issue with Sail Race tack assist. (MARQ Captain and Quatix 6 only.)
Fixed an issue where the device could crash when connected to a HRM Pro with an active Livetrack session and accessing Ski activity profiles.
Fixed an issue where certain CIQ elements could not be uninstalled via Express.
Fixed an issue where the applied ballistics app could not be launched through the controls menu while running another app. (tactix Delta AB only).
Fixed an issue where the device may fail to load a considerably long activity through the history menu.
Fixed an issue with setting up elevation alerts at higher elevations.
Fixed an issue in the paring flow where the device could return to the "Pair with Phone?" page instead of moving forward.
Fixed an issue where customers with high resting heart rate would intermittently not accrue intensity minutes.
Fixed an issue where the device was not recording position data when racing against a downloaded course.
Fixed an issue where Daily Suggested Workouts were still present on the calendar after disabling DSW prompts.
Improved the reliability of ephemeris downloads.
Improved the presentation of information for alarms and timers.
Improved the scaling of lines when zooming in/out on the map.
Made several improvements for Sleep.
Made several improvements for Indoor Climb.
Made several improvements for daily suggested workouts.
Made several improvements for Livetrack.
Updated the Applied Ballistics bullet database to version 1215 (tactix Delta AB only).