I hope this leaked specification/marketing copy is a joke. Because if it's not, I legitimately wonder what is going on in the Specialized HQ marketing department. Who thought "Speed Sniffer" was a good idea? Seriously, who? Is this a cry for help? Because I feel like it might be a cry for help.
Also, I don't really get it. Does Specialized really need to do all that to sell more Tarmacs? Do people really buy Tarmacs because they are Sniffing Speed? Er… let me rephrase that ;). Besides the whole, it's a nice bike thing (I love my Sl6), there's the signalling around it, but if we're being totally honest it might be because they have amazing paint (usually).
Specs are solid; with a BSA bottom bracket and room for 32c tires. Also kind of nice that they aren't pink taxing anymore, although they phrased that differently. I don't any mention of mechanical or electronic shifting, so fingers crossed it's both. But you never know with the current market trend towards the fancy stuff.
If I had to guess as to the underlying reason behind the head tube design, I suspect it has something to do with the issues that Specialized had with the SL7 in that area*.
I've included the spec/drivel (pulled from Reddit) below. Have fun with it.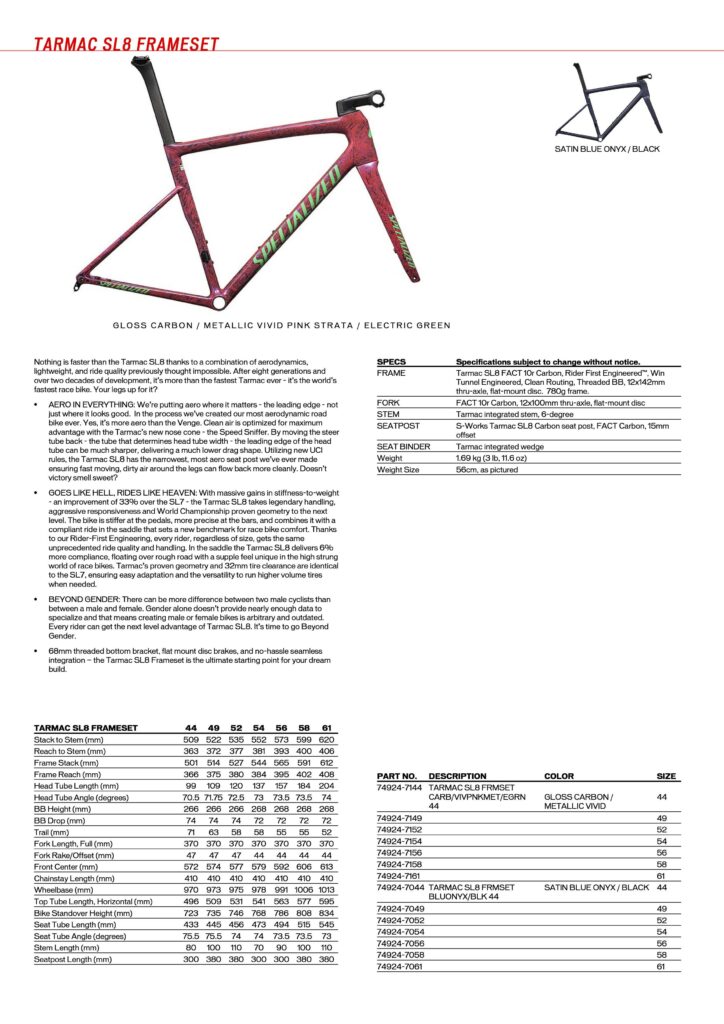 * The first draft of this post included a reference to "nose breaking" technology, but then I realized that that was actually the problem with the SL7. Which is where this idea came from :D.