I'm generally pro-Canyon. I have a 2018 Aeroad, and it's a great bike. I've had no issues with the bike that weren't my own making. The story with the 2021 Canyon Aeroad, on the other hand, hasn't been as peachy. First there was the self-destroying seat post, then there was the integrated handlebar that falls apart. I totally understand why they issued a stop-ride order afterwards, broken handlebars are not something to mess around with. What I don't understand is their proposed response to this problem.
Here we have a post from a Canyon rep on their closed Facebook group: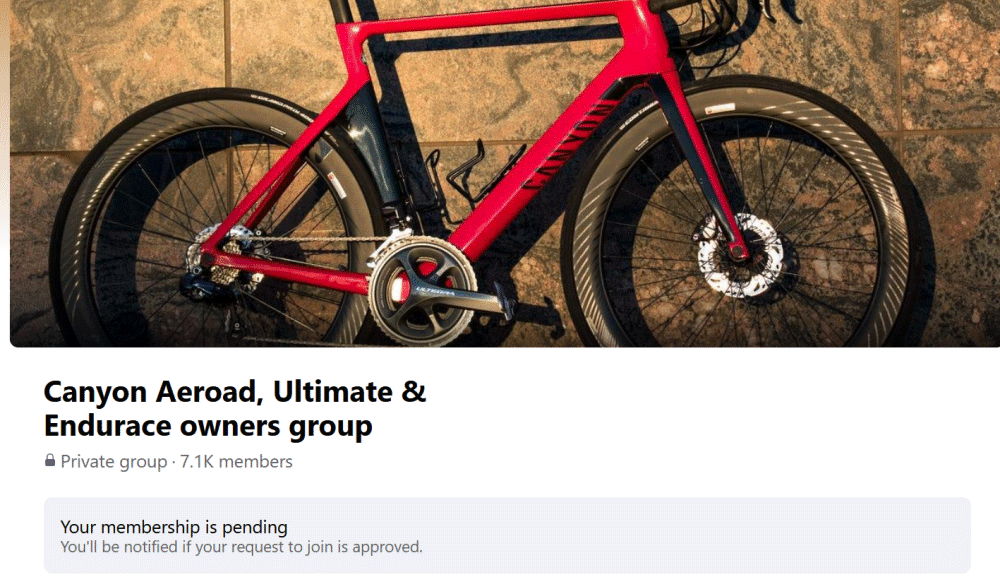 As promised, we'll keep you updated on the actual Aeroad topics. In addition to this Social Media statement, we will inform all customers via email – those who already got an Aeroad and of course, all who actually have a bike on order.

As you know, our Alpecin-Fenix Cycling Team pro Mathieu van der Poel broke part of the handlebars of his Canyon Aeroad CFR during a bike race at the beginning of March. This did not show up in any of our industry-standard intensive testing procedures according to ISO4210-5, which we always carry out before launching new products. To ensure the safety of our customers, we will replace the drop bars on the cockpit with a reinforced version.

Therefore, we will equip all CFR and CF SLX bikes in the market with the new drop bars, which will be available from July. We have asked our customers not to use their Aeroads until then. To compensate them for the downtime of not being able to ride their Aeroad CFR and CF SLX and to thank them for their loyalty and patience, we will give them a credit. The payment is linked to the repair and will be made after the replacement of the drop bars has been carried out and they have received their Aeroad back from us. We will contact them in due time about the exact repair and payment procedure.

You are probably also wondering about the status of the seat post. The improvement of the seat post will take longer than we originally thought. We currently expect to be able to offer a suitable solution in the autumn that will satisfy our customers and us 100%. We are sorry that we cannot give you an earlier date now. We are also very sorry that we will probably not be able to deliver ordered Aeroads before autumn this year. We ask for your understanding and apologize for a long time off the bike or the waiting time and will also offer compensation for those who won't be able to use their bikes.

It is important to us that all customers can ride their Aeroads as soon as possible – just like the riders of our pro teams who are currently riding the Aeroad from victory to victory. The handlebars solution used here is safe and complies with UCI regulations, but unfortunately, it is not suitable for series production. Our pro teams will also receive new drop bars and will be equipped with the same configuration as our customers in the future.
I would have loved to provide a link/screenshot, but unfortunately my membership is still pending :(. A friend of mine, who is "lucky" enough to have a 2021 SLX Aeroad is a member and was kind enough to provide the text.
There's a lot to unpack here, and it's almost all bad. Frankly, I think they've bungled it to the point where it's going to be hard to come back as a brand.
If you have a stop-ride Aeroad, the earliest your going to be able to ride the bike is sometime in July. Best case, they start processing bikes July 1st, and figuring in the shipping + fix + processing time, maybe you have it by the end of July. Worst case, "available from July" means that they'll start fixing bikes at the end of July. Given the current supply chain issues, it seems likely that your bike is going to be a paperweight for most of the summer.
What does "to thank them for their loyalty and patience, we will give them a credit" mean? The pessimistic read is that they are going to offer you store credit on a future purchase. Optimistically, it means cold-hard-cash. If it's the latter, that's great, but what's a summer off the bike worth?
Fixing the seat post is going to be a long-haul thing. It's not currently possible to order an Aeroad with the integrated handlebars, but they're still listed on the site with no mention of the stop-ride. If you go lower spec, Canyon is showing availability in March/April… That they aren't canceling orders for anyone who bought the bike, and they haven't shipped it, is mind-blowing.
Doubling down on "The handlebars solution used here is safe and complies with UCI regulations" is so tone-deaf, I can't even. We know about this issue precisely because IT IS NOT SAFE. If it was safe, MVP's bars wouldn't have been dangling off the end of the bike…
Where is this mea culpa on their website? Where are they taking accountability for this publicly, and not behind a Facebook wall?
Canyon has two problem, one is relatively easy to fix, the other not so much. To be clear, the technical fix is only easy in a relative sense; obviously there are logistical challenges, but it's not that hard to swap handlebars on a bike, even at scale, it just takes time. What is hard, and it's going to be really hard, is to fix the brand. Between us, despite what Specialized, Trek, or Canyon tells you, bicycles are highly fungible goods. Canyon's "great bike at a great price" slogan stops holding as much play when your bike isn't great, and the trade-off from that great price means you stay home when your friends are out enjoying the summer. How do we trust them; ever?
That's a lot of complaining without a remedy; lets fix that. The main issue here isn't that there's a problem. Things break; innovative approaches break more frequently. The problem is in the arbitrary handling of the situation. Canyon is making 2021 Aeroad owners bear the cost of their Icarus moment. They've decided that they are going to do it this way, and if you don't like it, your only option is to complain, tell your friends, poison the brand. And everyone else who pays attention to the space will know this too. I'm definitely not going to recommend them; not for a long time, maybe never again.
The remedy is simple; provide some franchise. For those who are happy to wait for a fix, carry on as above. For everyone else, especially those who haven't received a bike, offer a refund. Given the global bike shortage it probably won't change the situation much, but at least it provides an option beyond sucking it up.
Update 3/18/21:
My friend got his letter from Canyon, which outlines the credit amount, but not the specifics around the actual implementation (store credit vs cash).